PHOTO
FIRST V-ROD CUSTOM FOR US : DESIGNED BY VIOLATOR MOTORCYCLES
March 23,2017
829 Views
2017.3/23. FIRST V-ROD CUSTOM FOR US : DESIGNED BY VIOLATOR MOTORCYCLES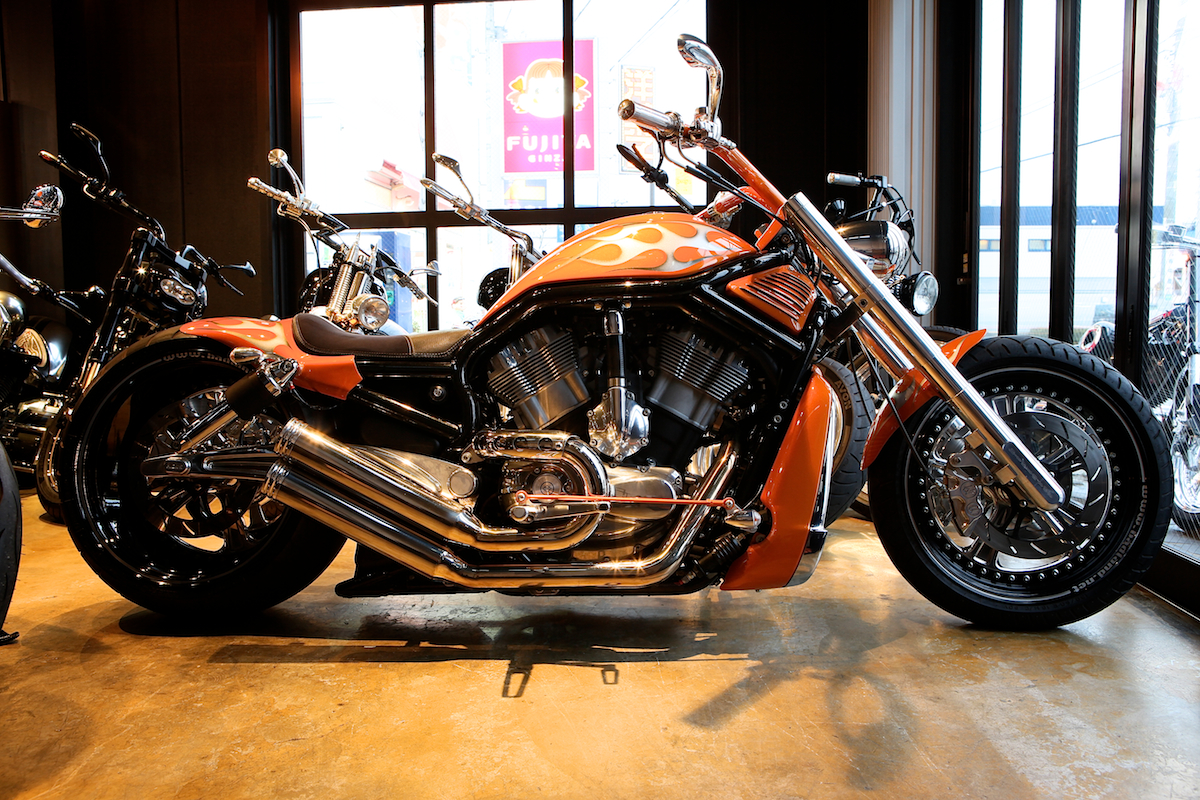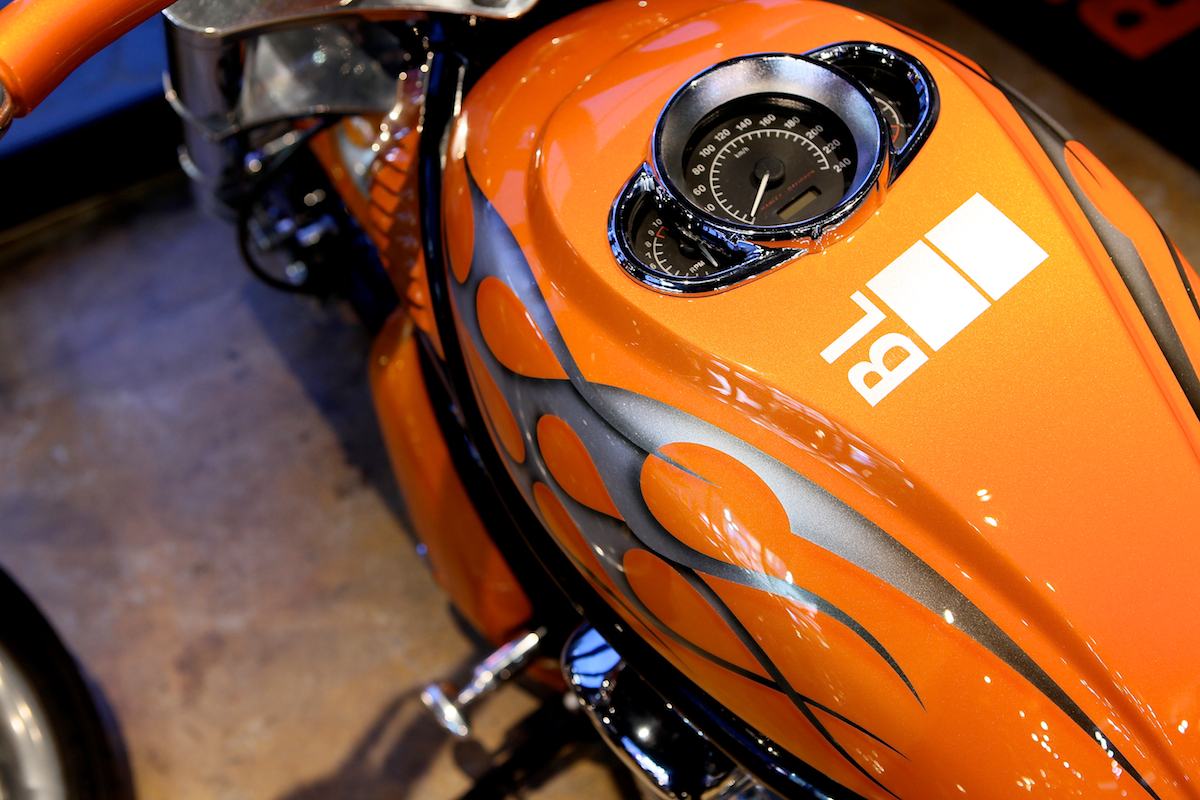 13 YEARS AGO…
We built this V-ROD CUSTOM 13 years ago in 2004.
This was the first time for us to do a serious V-ROD custom build.
When I visited W&W CYCLES in Germany in November 2003, I happened to see a photo of this V-ROD in a German custom bike magazine.
This Custom V-ROD had been built by Custom Shop : VIOLATOR MOTORCYCLES which was an up-and-coming shop in the Netherlands at the time.
I was deeply impacted by the style of this machine which was imbued with the CHOPPER spirit and showed a new direction for V-ROD custom.
At the time I was totally devoted to Made in Europe machines and deeply involved with work on the Japanese custom scene that kept me immersed in them,
and I remember very well feeling like it was my mission to tell all the Japanese Harley fans about this incredible new style that had such an impact on me.
Notwithstanding our profession that "in the spirit of admiration we have recreated the V-ROD custom built by VIOLATOR MOTORCYCLES of the Netherlands",
our work was branded by the people at Harley magazine in Japan as being unsuitable for coverage because of its being a perfect copy of VIOLATOR MOTORCYCLES,
and it was very frustrating for awhile, but we were able to get the V-ROD seen at a number of different Custom Shows at the time,
and so in the end I was able to share the incredible inspiration I had gotten in Germany with a fair number of people.
Looking back now I really do feel glad that we built this V-ROD Custom.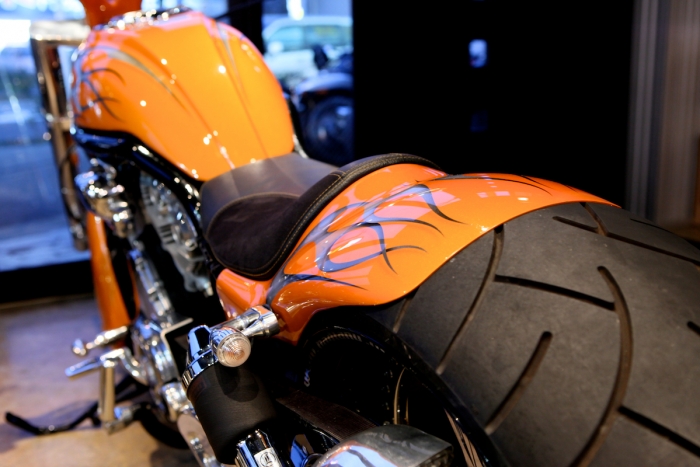 13年前…
今から13年前の2004年に製作を致しました、こちらのV-RODカスタム。
私達が初めて本格的にV-RODのカスタムに取り組んだ車両です。
2003年の11月、私がドイツ W&W CYCLES を訪れた際、
何気に手に取ったドイツのカスタム雑誌に、このV-RODの写真が掲載されておりました。
このカスタムを製作したのは当時オランダにあった、
まさに新進気鋭のカスタムショップ : VIOLATOR MOTORCYCLESでありまして、
V-RODカスタムの新たな方向性を示しつつも、CHOPPERスピリット漲るそのスタイルに、
私は相当の衝撃を覚えた次第です。
当時の私は、それこそ全身全霊を掛けるくらいの意気込みで、
日本のカスタムシーンに、Made in Europeを浸透させる仕事に打ち込んでおりまして、
とにかくこの衝撃を、日本のハーレーファンの皆さんにご紹介せねばならないと云う、
そんな使命感にも似た想いに駆られた事を今でも良く覚えております。
『これこれ、こう云う意思の元、オランダのVIOLATOR MOTORCYCLESが製作をした、
V-RODのカスタムを日本で再現致しました』と云う、触れ込みを付けていたにも関わらず、
日本のハーレー雑誌関係者からは…..
-そのV-RODカスタムは、単なるVIOLATOR MOTORCYCLESの完全コピーに過ぎず、
故、雑誌掲載における取り扱いは不可-
とのレッテルを貼られる等、随分と悔しい思いをした事もありますが、
それでも、その頃開催された様々なカスタムショーで、このV-RODをご覧頂き、
私がドイツで受けた衝撃を、共有して下さった方々も大勢いらっしゃいまして、
今となりますと、本当にこのカスタムを造って良かった、と、そう思う次第であります。