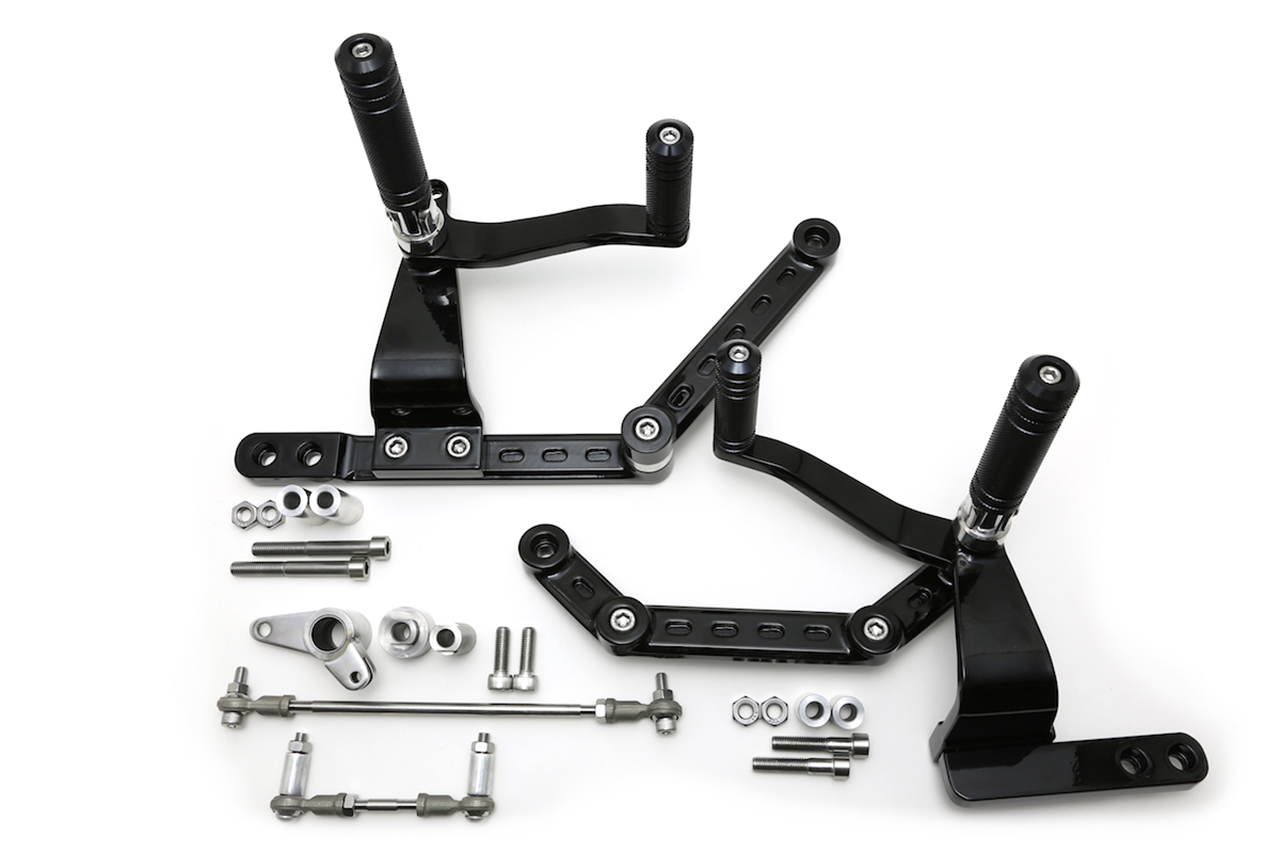 BAD LANDオリジナル : V-ROD用ミッドコントロール・キット
弊社オリジナルのV-ROD用 : ミッドコントロール・キット。アングル・リンケージマウント方式を採用する事により、ブレーキペダルの踏み込み時やギアチェンジの際に発生する荷重を強固にホールド。更にニーグリップが安易となるポジショニングも確保されますのでより安定したライディングをお楽しみ頂けます。
2002年以降のV-ROD全モデル (NIGHT ROD、STREET RODは除く) に、一切の加工をする事無くボルトオンにてお取り付け可能。
V-ROD全年式 / 全モデル (V-ROD MUSCLEは除く) の純正エキゾーストシステムにも対応。
2008年以降のABSブレーキ・システムに対応。
仕上げ : パウダーコート・ブラック仕上げ
※ オーダーの際は、お客様のV-RODの年式とモデルを必ずご連絡下さい。
[ 価格 ] : ¥198,000 (税別)
BL Original Mid-Control Kit For V-ROD
Our original V-ROD: Mid control kit. By adopting the angle linkage mounting method, it is possible to withstand the load generated when stepping on the brake pedal or when changing gears. In addition, you can enjoy a more stable riding because positioning is also secured to ease knee grip.
2002~ All V-ROD models / except : VRSCD, STREET ROD.
It can install with VRSCAW, VRSCDX OEM Exhaust system (Except VRSCF).
It can install also with OEM ABS brake system.
Powder coated black finish.
Made in BAD LAND.
※ Please let us know the model and year of your V-ROD in the case of an order.
[ PRICE ] : 198,000 JPY